Kathleen Ellmore is one of the earliest pioneers bringing the best of consumer marketing and data driven methodologies to healthcare. Instead of getting you to eat when you are not hungry and buy things you don't need, we can finally use the strategies to instead change the health equation in America. Kathleen previously led the Consumer Engagement consulting practice for Welltok (formerly Silverlink) for 12 years, leveraging its data repository of over a billion consumer health interactions, the best of behavioral economics, and the latest in clinical research, to create evidenced-based communications on what works to drive consumer healthcare behavior yielding better outcome and lower costs. She is often quoted in the trade and national press and is a regular speaker on the national stage, having spent the first twenty years of her career in brand marketing at leading consumer marketing organizations, including General Mills and P&G. Additionally, she was Vice President at Digitas, a leading direct marketing firm. Recently she was selected as Consultant Member of the first ever FDA's Patient Engagement Advisory Committee.
Best session of the entire conference
Featured Events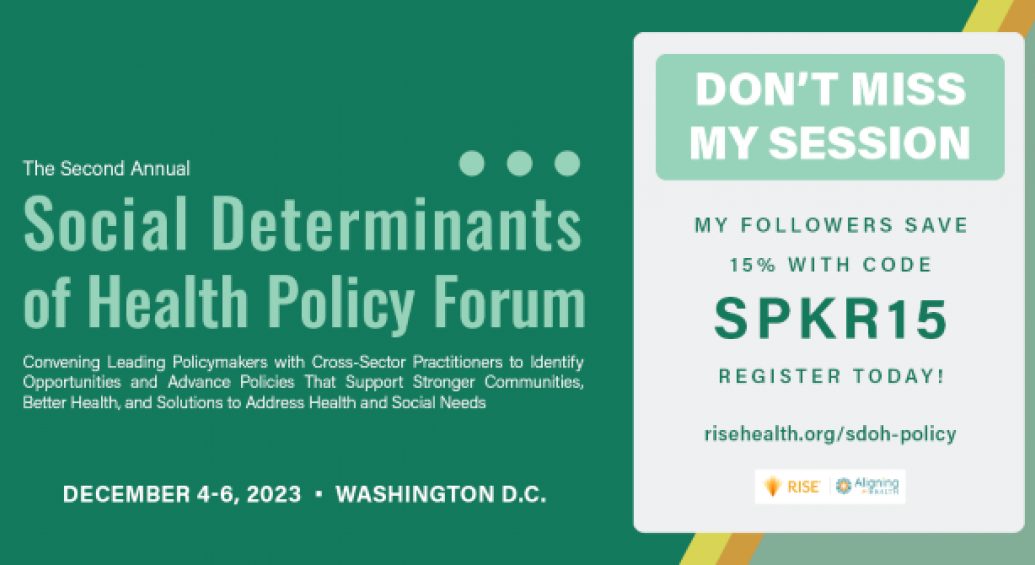 RISE The Social Determinants of Health Policy Forum
Patient Focus Panel – Insights from Patients Impacted by SDoH
December 6, Washington D.C.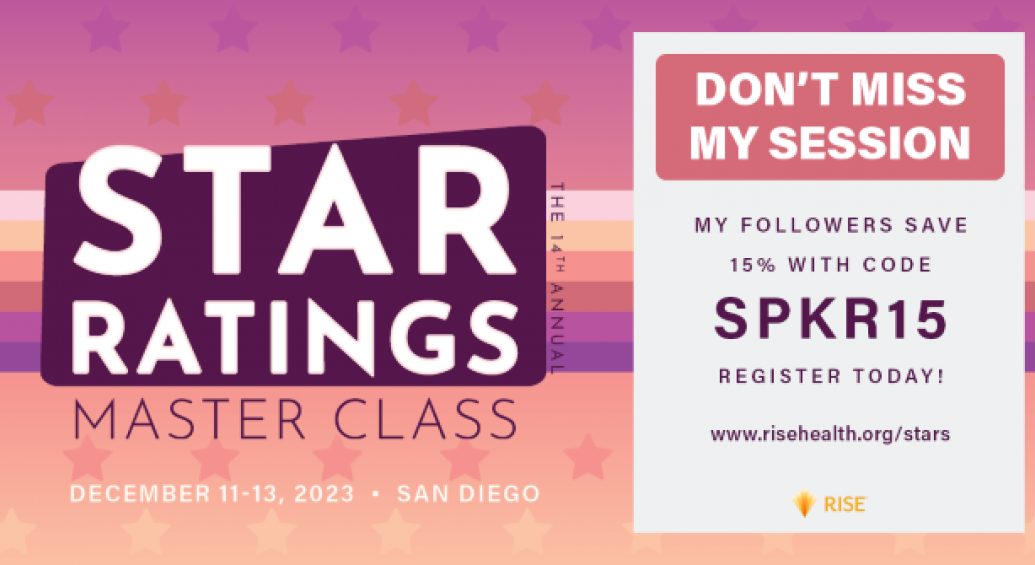 RISE 14th Annual Star Ratings Master Class
Innovations in Quality Improvement: Optimize Touchpoints with Nudge Theory
December 13, San Diego California
Events
| YEAR | EVENT | SESSION/WEBINAR TITLE | LOCATION/LINK TO RECORDING |
| --- | --- | --- | --- |
| 2023 | ACMA Leadership and Physician Advisor Conference | Unlock the Secrets of Driving Consumer Engagement | San Antonio, TX |
| 2023 | AHIP Consumer Digital Forum | Employing Behavioral Science to Achieve Equity and Engagement | Nashville, TN |
| 2023 | RISE West | Patient Focus Panel – How Plans and Providers Can Positively Impact Member Experience | Dallas, TX |
| 2023 | League Connect | Leveraging Engaged Consumers to Effectively Drive Better Outcomes | Virtual |
| 2023 | RISE MMS | Unveiling the 7th Annual Survey of Healthcare Consumer Engagement Practices | Las Vegas, NV |
| 2022 | RISE STAR Rating Master Class | Unveiling the 7th Annual Survey of Healthcare Consumer Engagement Practices | San Diego, CA |
| 2022 | Clarity Webinar | Engagement Strategy and Planning for 2023 | Virtual |
| 2022 | Fierce Healthcare Webinar | Transforming your Digital Experience from the Inside Out | Virtual |
| 2022 | RISE WEST 2022 | Patient Focus Panel: How Plans and Providers Can Positively Impact Member Experience | Los Angeles, CA |
| 2022 | RISE Member Engagement & Experience Symposium | Be Brilliant at the Basics, Part 3: Spread the Word: An Effective Digital Transformation | Virtual |
| 2022 | AHIP 2022 | Digital CX in Healthcare Insurance: The Opportunity of Member Engagement | Las Vegas, NV |
| 2022 | AEP Medicare Readiness Summit | Be Every Broker's Favorite Plan: How to Get to the Top if their Recommendation | Virtual |
| 2022 | Clarity Webinar | EOBs: The Key to Year-Round Engagement | Virtual |
| 2022 | AHIP Webinar with Surescripts | Study finding: Health insurance provider key industry trends, challenges, and priorities | Virtual |
| 2022 | NCPDP Annual Technology & Business Conference | It Starts with the Patient Encounter: Breaking Down Barriers to Medication Abandonment and Speed to Therapy | |
| 2022 | Clarity Webinar | Best Practices to Increase Benefit Engagement with Member Guides | Virtual |
| 2022 | RISE Summit | SDoH Panel | Nashville, TN |
| 2022 | RISE MMS | The State of Consumer Health Engagement | Las Vegas, NV |